Journal Entry:
Fri Feb 25, 2011, 6:47 PM
wowwow, wtf. This new way to update your journal is
WEIRD
. what's going on D:
.....
so. anyways.
Con journal (a little over-due but whatever) ! :) haha haven't done one since ..october? Damn!
Went to con-G over the weekend and had a blast!

Everyone was so niceeeeee and very friendly! <3333
I met some nice artists as well! Please tell me who you are :'D ha ha I forgot to take any DA names because I suck ):
Let's just go straight to photos because I'm such a terrible writer, I let photos and drawing show what I have to say. ha ha
_______________________________________________________
If you're a Gintama fan, you might enjoy these photos :'D LOL
Um, we didn't do a photoshoot. Like you know how usually we go find a nice location and take some nice photos...we didn't do that here because there wasn't anything nice arround there and lighting was baddd........so in april we're going to go to a
beautiful
japanese park for a serious photoshoot.
I am quite excited for it! Lovely cherry blossoms and Karen has gotten so pro now with her camera equipment!! :D
So enjoy lots of stupid photos

It's quite image heavy because I'm not planning any submissions for these!
Gintoki (

), Kagura (

), Okita (Jess), Hijikata (moi).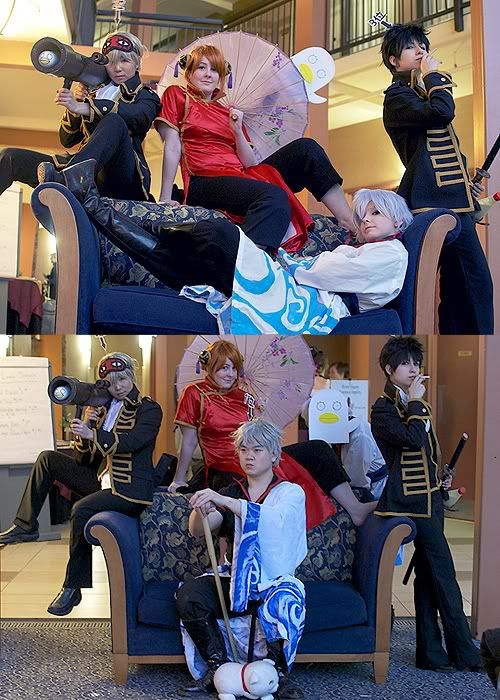 Our group :) We met that other Gintoki there and she was so awesome! ha ha Always nice to meet new friends♥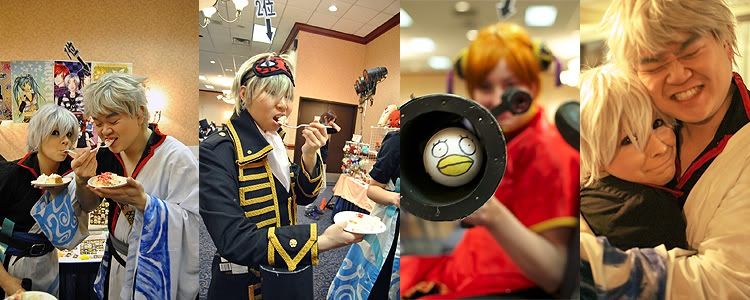 Thank you Niku&Minji for the CAKE!!! hahaha that made us all so happy! It was so awesome because they had a sign later on that said "we have more cake". It was hilarious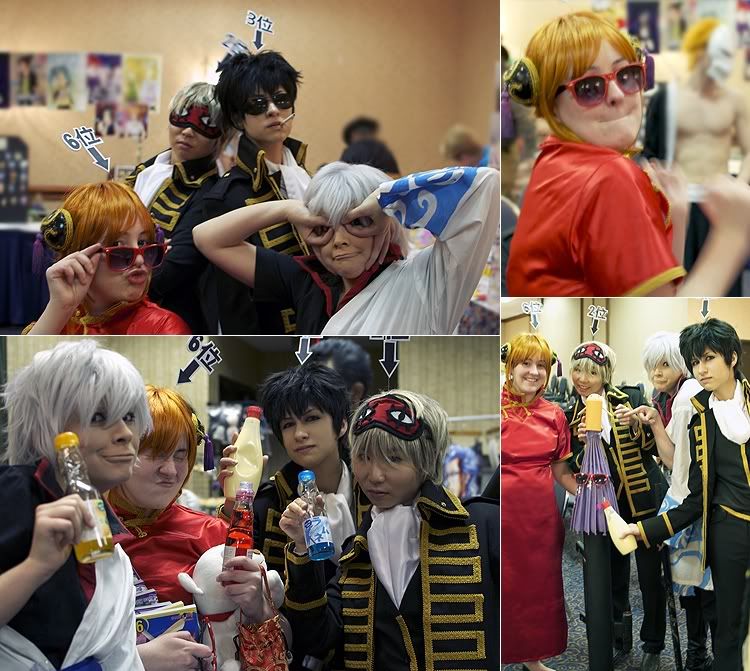 ....so they all bought Ramune unintentionally. (different flavours too! ha ha) but I totally felt left out ): so cheers with the mayo LOL
and we ruined that parasol by placing various items on it ha ha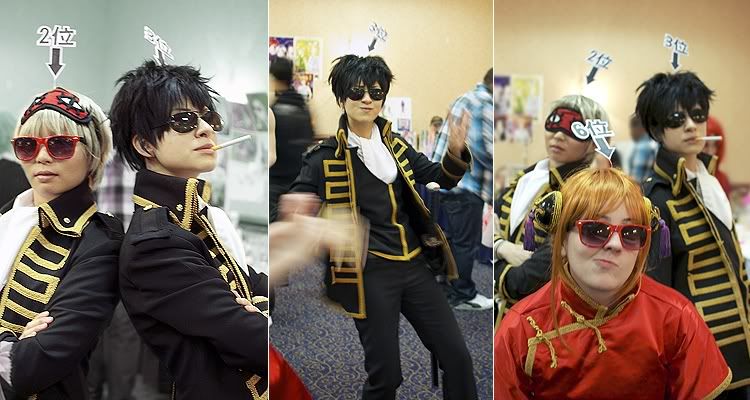 AAW YEAHHHHHHH!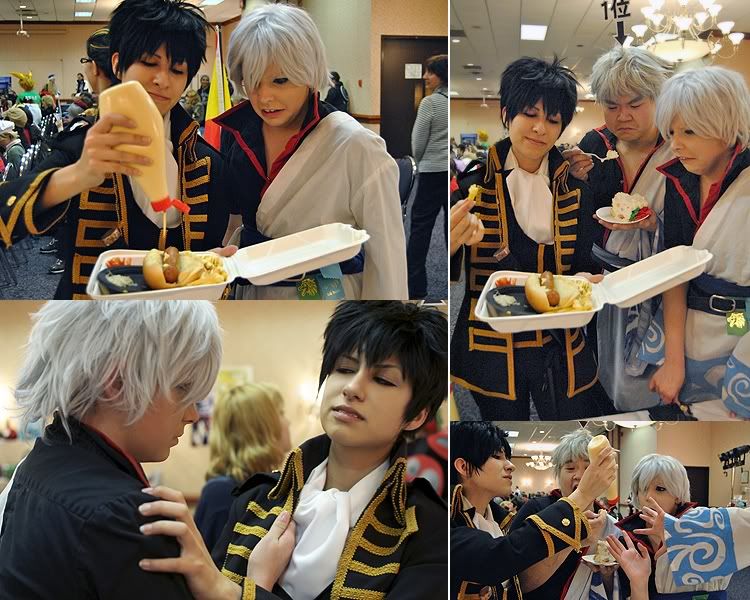 that's like the best prop ever because you can eat it and it's awesome.
the circle thing called to us. oh man I LOVE Carolanne's (other Gintoki's) face in the glass. LMFAO and my scrawny chicken legs ):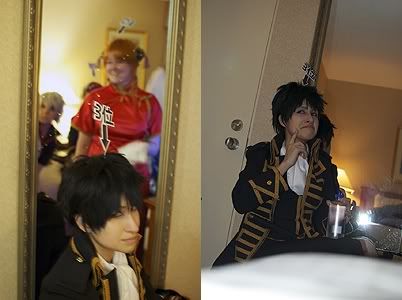 ohgod ok story time. Liz aka Kagura was trying to open her ramune using the hotel WALL. (who does that I DON'T EVEN
KNOW
lmfao) but then it made such a FUCKING LOUD noise and next I knew I felt some kind of water on me. I thought I was shot or something ha ha ha "IT FINALLY HAPPENED OH GOD I DON'T WANT TO DIE IN COSPLAY". LOL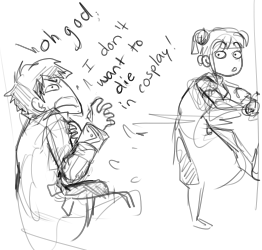 Andrew thought she punched a hole in the wall hahahaha I wish we caught that on tape, it was really funny. and SO LOUD. How does a drink make that kind of noise!? what the hell hahaha Afters she went to go clean the mirror...and there was an imprint of where I was sitting. LOL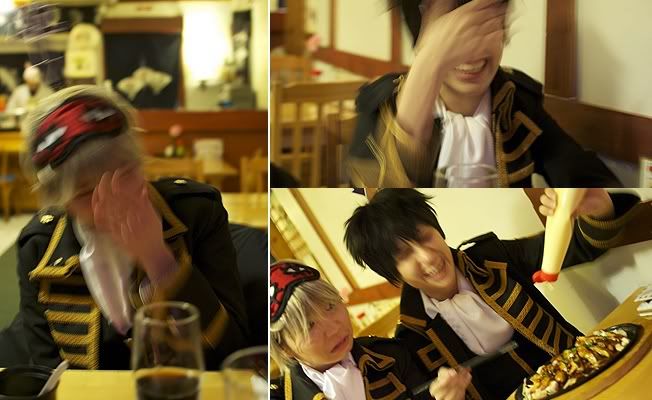 then we went to dinner.
to be honest...I love photos of us laughing (even when we're not in cosplay). they're my favourites :")
we were laughing watching the mayo SLOWLY go on my food during each photo. that and jess not allowing me to eat.

ps. it tasted delicious. sooo effff youuu guys
also: LOL@ Jess' disgusted face hahahaha
OH GOD OK. So Jess is left handed and I'm right handed. THIS DOES NOT WORK WHEN WE EAT BESIDE EACH OTHER. LOL She kept unintentionally knocking the food right out of my chopsticks with hers. It was frustrating hahaha It kept making this 'click' sound every time she would do it so the term we now use is "quit clicking my chopsticks".

AHHHH JUST LET ME EAT GOD DAMNIT. D':< ....the sad thing is this happened
5 times
before I said anything! I didn't want to be rude ha ha ha but on purpose or not I finally said sometime. asjdajm
honestly just
LOL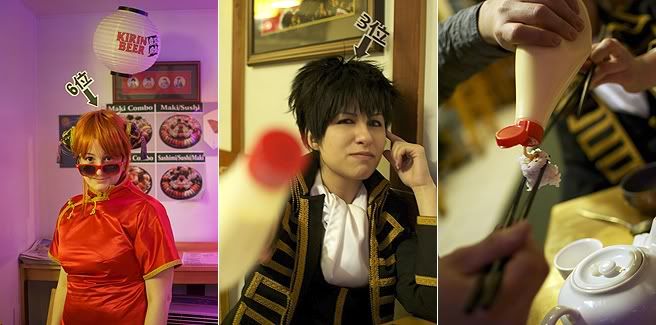 Karen was so proud of that last shot, she wanted to submit to a menu or something LMFAO! so I had to include it here.
holyshit jess' face. hahahaha Titanic and ..romeo and juliette?! oh god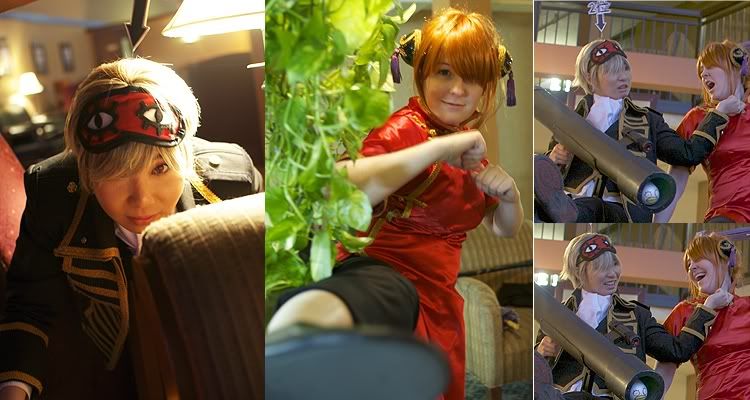 BAHAHA, WHY SO CUTE YOU GUYS!?

i love that photo of jess with the lightingggg...<33





"FUCK YOU, I CAN BE CUTE TOO" .................no you can't. LMFAO OTL"
That's the most awkward photo ha ha ha and kinda the reason I can't do cute characters. it's just sad for everyone involved. rofl



SO UH.................. LOL Here's what happened: I went to go put my fist up and then she put her head down FAST so I ended up actually punching Gintoki in the face. ROFL I'M SO SORRY.......... BUT IT WAS JOKES.

___________________
THIS IS HOW AWKWARD I LOOK IN TOSHI COSPLAY.
Toshi is pretty much Hijikata's curse...where he turns otaku. it's like my favourite arc :"D haha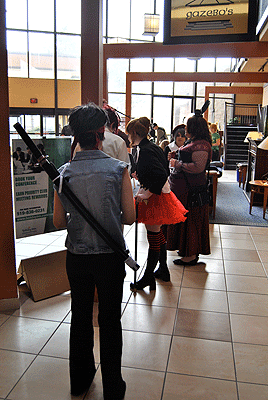 oh man. I was just a complete disaster in that outfit LOL I coudln't grab my sword from my back making me look more like an idiot and I gave myself a wedgie ): ...............I THOUGHT IT WAS MY PANTS FUCK YOU.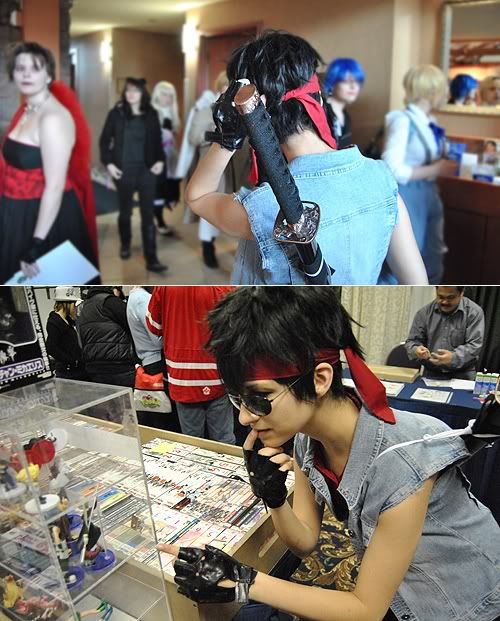 why yes I am aware of how much I look like a dude here.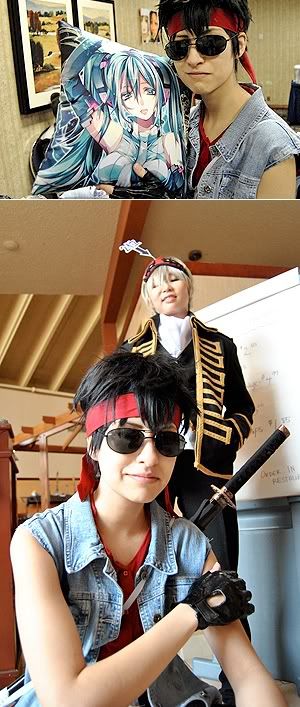 THAT IS SO EMBARRASSING.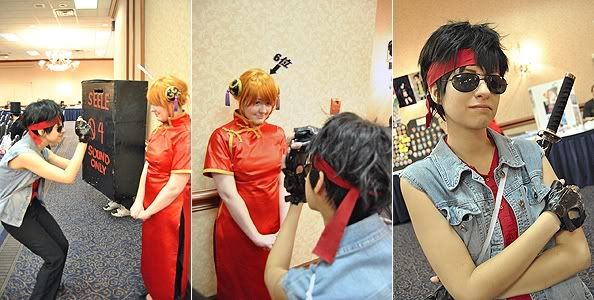 LOL that last photo is totally my 'bitches love me' pose. FOR SURE. ha ha ha ha
my friends are nice. nice people.
</sub>....Jess totally beat me up )":
and I deserved it for looking that way LOL
.
__________________
ha haya, so much lulz with these outfits...it'd be nice to wear them to a big con at least once :") I still want someone to cosplay Kondo because he's awesome and I haven't seen a cosplay of him yet D:
here's some non-retarded photos:
fffff--- photos that Droo shot!
pfff always a pleasure!! We always see him at our cons and he's just so nice and awesome!

You can see more of his photos
on facebook.

he makes me look way cooler than I actually am haha
ok ok just want to show these lenses. They're the 'animation' lenses! I decided to try them out with this cosplay! They are really intense

Personally I love them, they will show up on very dark eyes without a problem because they're so opaque! And they actually have those white 'bubble' things because they're suppose to imitate anime eyes. [there's no eye colour enhancement in those above images above!] Though I think they might be too bright for certain characters, I wouldn't wear them for France for example, simply because they're too intense. It's quite perfect for Hijikata's character though :)
_________________________________________________
Ah well next con event for me is Mtac with

as France again! I'm so excited cause I miss you girls so much!!


And I'm planning a Luke (long haired version) cosplay~ I just want to style and dye a wig like his♥ and I miss ToA fandom more than anything.
Anyways, I'm going to start drawing some more again, updating my blog and all that!

Cosplay is fun and all, but art is where my true passion lies :"D
If you read up to here. holyshit CONGRATS! I haven't bored you to death! ROFL
Listening to: Soul to Squeeze- Red Hot Chili Peppers
Watching: Tosh.0
Drinking: Canadian beer