Journal Entry:
Sun Feb 6, 2011, 6:33 PM
HELLO!
....
...
..
SOOOO... HOW ABOUT THIS WEATHER, EH?
the 'eh' there was completely necessary.
we should all go taboozing. it's a popular sport here in Canada. /don't lie to your watchers Mony!! ROFL K.
Seriously man, out of nowhere BAM! I actually enjoy it :) when it's not freezing though

I absolutely love running around in lots of snow with mah awesome moccasins boots! I love the sound of snow when I step in it. ha ha ha It's so nice! |D
and so does my cat:
So he ventured out for like 10 minutes, ran back in...than napped.

what a crazy baby.♥ LOL Being a house cat must be pretty sweet =/
Oh yes! Here's some real news. haha I'm going to
Con-G (Feb. 19-20)
. By a huge fluke, I got an artist alley table! :'D SO URH. If you're going...I'll be there? come and say hi!! We shall be in Gintama cosplay again...since we only wore em for a day..and that's just
sad.
More lulz is to be had with these outfits!! oh and this one:

ahahaha toshi cosplay. aw hell yeah !!
dear lord. no one can look cool in this outfit. wow, I can't wait to be a complete loser at the con!! ROFL *no one talks to me* ): i am super cool.
...
I look so much like a guy there. OTL" oh i'm bracing my self for some intense ridiculing from my irl friends right about now LOL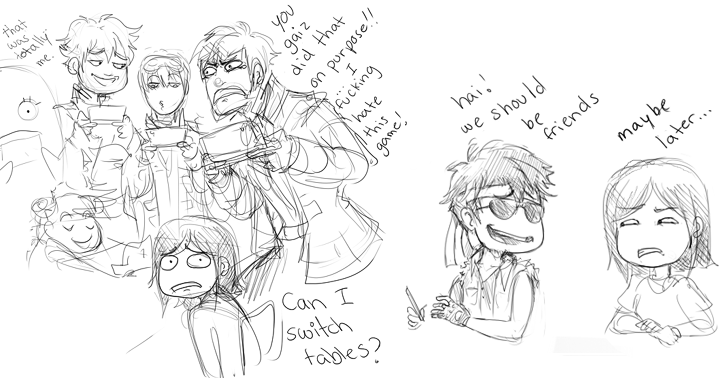 Euh, I think I'm sharing a table though with someone I don't know. I FEEL SO SORRY FOR THAT PERSON LMFAO.
Jess wants us to bring our DS so we can play mario kart at the con.....for some reason I really SUCK at the DS version! Dx and I have an old-pre-historic-bulky DS that everyone laughs at. HATE YOU GAIZ ffff-whatevz. gamecube all the wayyyyy! I played that system WAY too much back in the day :'DD
It'll be my first time...so I hope it'll be good! Well I always have fun regardless if the con is organized or not. :D
Hmm... I want to go to new cons this year.
ya
. I'm probably going to skip fan expo because seriously...no. just no. to go to Youmacon again :) because last year was so awesoommeeee! I also want to go to Japan Expo...in Paris get a table and all that jazz... but
yeh riiighhhtttt
, I doubt that'll happen unless I win the lottery OR SOMEONE SHOULD GIVE ME MONEY FOR NO REASON...I'm sorry what?
ah...Now the point in the journal, where things don't make any more sense and everything is really ugly. LOL
seriously. go watch another artist!!
return of my brother. I don't know man, the things that he does are so...just
WHAT
. LOL This happened recently: he starts knocking at our door like a maniac then just says 'oh god. i have no face.' over and over because it was so cold. Then he walks in pets the cats, goes to the sink where I was making my tea takes the spray thing and ACTUALLY SPRAYED ME. I was so shocked because I didn't think he was gonna DO THAT. LMFAO and than says "holyshit. on a scale to 1 to 10 how cheesed are you right now!?! Cause if that was me, I'd be pretty pissed. OH YA". AND THEN HE JUST LEFT THE HOUSE AGAIN. WHAT THE FUCK LMFAO
-I totally tripped on my robe while I was sitting down and my mom saw it. LOL oh yes, I wear a fuzzy robe that has angry pillows fighting on it and it says 'pillow fight'.
-was playing Mother3 again. )': SO SAD
Ever get mad a people because of something that happened in your dreams!?! LMFAO OH YA. HE KNOWS WHAT HE DID.
>OMG. My friend Rachel....poured her coke can into a MUG. A-MUG. I thought, and still think to this day, that is the strangest thing I have ever seen. LOL It's so ..GOD DAMN WEIRD. WTF So we got into this huge like ethical debate about what can go in a mug and so on. I can no longer look at her the same way.

LMFAO we're good friends, I assure you. Even if she tends to insult me like every...10 minutes.


____
oh yeah! People who I sent cards too, tell me if you got them either by spamming my front page or notes, I don't care! I'd just like to know :'D

____
ps. go check out

because she is offering commissions and she's awesome
♥
..seriously though. how weird is pouring pop into a mug.
Listening to: Voodoo Child - Jimi Hendrix <33
Watching: Gintama
Eating: Croissants
Drinking: White Tea

Watch